The Totem Pole and the CurseThe sewer system in the town of…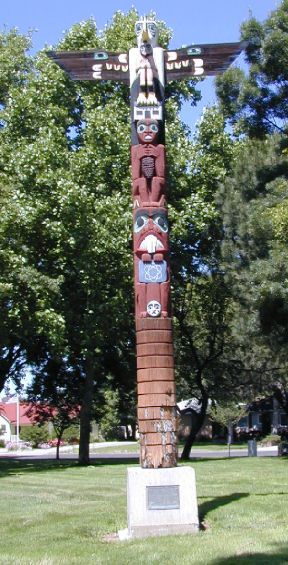 The Totem Pole and the Curse
The sewer system in the town of Livermore, California was once cursed because of how a totem pole was treated.
Adam "Fortunate Eagle" Nordwald, a member of the Ojibwa Nation, carved this totem pole in 1969 for a local shopping center but when they refused to pay him, he donated to the city of Livermore instead for their 100th anniversary.
This totem pole depicts scenes representing Livermore's history. Every ring on it represents ten years. It has a carving of the city founder—Robert Livermore and another that shows Atomic energy being used for peaceful purposes.
The pole when given was 18 feet tall and was dedicated in May of 1974.
At the time it was installed in the park, city workers for some unknown reason chopped off a few feet at the bottom of the pole. Nordwald felt this desecrated his work. He demanded it be restored to its original height.
But his demands fell on death ears. The city council refused to restore the pole.
So Norwald placed a curse on the city's sewer system. Within two weeks Livermore's entire sewer system backed up.
After this Livermore restored the totem pole to its original height but they never issued an apology to Nordwald so he did not lift the curse.
Some believe this curse has impacted the city in other ways. In 1974 during the centennial celebration a Time Capsule was buried in the park. In 1999, when the city went to unearth it could not be found.
It later was found underneath the totem pole.
In more recent years, two deaths have been blamed on the Nordwald curse. A former city manager and a prominent city resident that were both interviewed in a documentary about Livermore's history mentioned the totem pole and curse.
They both died within a few short weeks after this documentary's release. Were they victims of this curse or was it just an eerie coincidence?
Adam Nordwald also became known because of his activism in various Native American protests.
He was the main organizer for the Native American occupation of Alcatraz Island from 1969 until 1971.
In 1973, he "discovered" Italy. He showed up in this country in full tribal regalia and announced in the name of the American Native people that he was taking possession of Italy "by right of discovery" just like Christopher Columbus had done.
Source: My Haunted Salem
2 Apr, 2020
The Totem Pole and the CurseThe sewer system in the town of…

Posted in My Haunted Salem and tagged Real Poltergeist Facts 'Real Ghost Pictures' Supernatural Noices 'Real Ghost Stories' Paranormal encounter by cnkguy with no comments yet.