National House Inn Bed & Breakfast in Marshall,…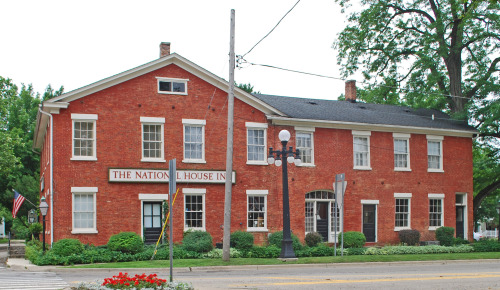 National House Inn Bed & Breakfast in Marshall, Michigan:
​
The National House #Inn Bed & Breakfast was constructed in 1835 by Colonel Andrew Mann as the Mann #Hotel, and is renowned as being the oldest operating hotel in the state of #Michigan. It served as a stagecoach stop for men and women traveling to #Chicago and #Detroit until 1902, when it was converted into luxury #apartments called Dean's Flats. During the American #Alcohol #Prohibition of the 1920's the building's #basement was used by bootleggers to brew and sell #alcohol, at which point a secret room was found, leading many to speculate that it was also used as a hidden stop on the #UndergroundRailroad before or during the #American #CivilWar. In 1976 the building was purchased and restored to its original 1800's style and decor, and reopened as the National House Inn Bed & Breakfast. Ever since, guests staying at the inn have claimed to encounter the #spirit of a woman wearing a red dress, often referred to as the #LadyInRed. Others report experiencing strange #paranormal phenomena, such as pictures being knocked off the wall by an unseen #entity, or catching the phantom scent of cigar smoke. Although the identity of the Lady In Red remains unknown, many believe she may have been a resident of Dean's Flats during the early 1900's, or someone who was involved with the bootlegging and sale of alcohol during that time period.
www.ghostquest.net/haunted-places-michigan-usa.html
#ghosts #ghosthunters #ghostadventures #ghoststories #paranormal #haunted#hauntedplaces #psychic #trueghoststories #halloween #horror #folklore #occult #supernatural #creepy #spooky #scarystories #weird
Source: Ghost Quest USA
27 Mar, 2020
National House Inn Bed & Breakfast in Marshall,…

Posted in Ghost Quest USA and tagged Real Poltergeist Facts 'Real Ghost Pictures' Supernatural Noices 'Real Ghost Stories' Paranormal encounter by cnkguy with no comments yet.