Henderson Castle Bed & Breakfast in Kalamazoo,…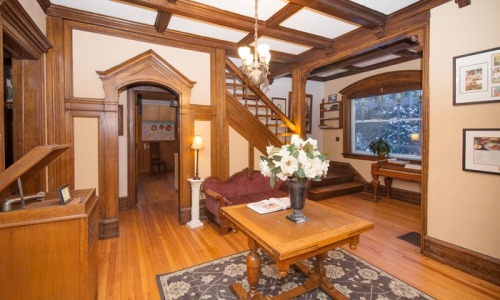 Henderson Castle Bed & Breakfast in Kalamazoo, Michigan:
Henderson #Castle in Kalamazoo, #Michigan was constructed in 1895 by a wealthy local businessman named Frank Henderson, who resided at the location until his #death in 1899 with his wife Mary, who passed away in 1908. Since their deaths, residents of Henderson Castle have reported encountering the #apparition of a man and woman believed to be Mr. and Mrs. Henderson throughout the 25-room estate, as well as experiencing other #paranormal phenomena, such as doors opening by themselves, and hearing the sounds of disembodied voices, whispers, and footsteps. In 1957 the castle was purchased by #Kalamazoo #College, and in 2005 was remodeled for use as a Bed & Breakfast, as well as a #restaurant called the H Prime Chophouse which opened in 2011. In more recent years employees and guests at the Henderson Castle Bed & Breakfast have reported witnessing the apparitions of several additional men and women, a young girl, and even a spectral #dog who wanders the hallways before mysteriously vanishing.
Click here to read more: http://www.ghostquest.net/haunted-places-michigan-usa.html
#ghosts #ghosthunters #ghostadventures #ghoststories #paranormal #haunted#hauntedplaces #psychic #trueghoststories #halloween #horror #folklore #occult #supernatural #creepy #spooky #scarystories #weird
Source: Ghost Quest USA
5 Mar, 2020
Henderson Castle Bed & Breakfast in Kalamazoo,…

Posted in Ghost Quest USA and tagged Real Poltergeist Facts 'Real Ghost Pictures' Supernatural Noices 'Real Ghost Stories' Paranormal encounter by cnkguy with no comments yet.