Fort Shelby Hotel in Detroit, #Michigan:The 27-story…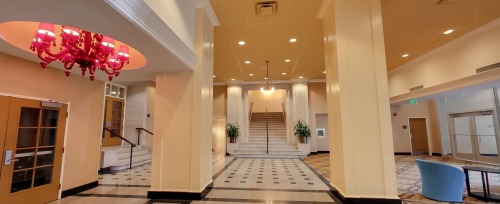 Fort Shelby Hotel in Detroit, #Michigan:
The 27-story #FortShelby #Hotel in #Detroit, Michigan was constructed in 1917. It remained open until 1973, at which point it was closed and left #abandoned for over thirty years, and was frequently occupied by drifters or other #homeless people in need of shelter. During this time one of the pipes in the #basement burst, rapidly filling the area with dense sewage and trapping a homeless man inside. According to police reports, the unidentified man's body wasn't found until several years after his #death, when neighboring businesses began to complain of a foul stench emanating from the old Fort Shelby Hotel. Ever since, the man's #spirit has been sighted by pedestrians walking in the alleyways surrounding the old building, and over the years he was given the nickname, Al. The Fort Shelby Hotel was renovated in 2007 and reopened in December of 2008 as the Double Tree Guest Suites by #Hilton Detroit Downtown – Fort Shelby, where many still report encountering Al's apparition wandering the hallways and lobby at night. Guests staying at the hotel have also reported hearing the sounds of disembodied footsteps and other strange noises, as well as witnessing doors being opened and closed by an unseen entity, and feeling a strange presence. The Fort Shelby Hotel was added to the National Register of #Historic Places in November of 1983.
Click here to read more: www.ghostquest.net/haunted-places-michigan-usa.html
#ghosts #ghosthunters #ghostadventures #ghoststories #paranormal #haunted#hauntedplaces #psychic #paranormalinvestigation #trueghoststories #halloween #horror#occult #supernatural #creepy #spooky #scarystories #weird
Source: Ghost Quest USA
10 Jan, 2020
Fort Shelby Hotel in Detroit, #Michigan:The 27-story…

Posted in Ghost Quest USA and tagged Real Poltergeist Facts 'Real Ghost Pictures' Supernatural Noices 'Real Ghost Stories' Paranormal encounter by cnkguy with no comments yet.