Blood Road in Metamora, Michigan:#BloodRoad in Metamora,…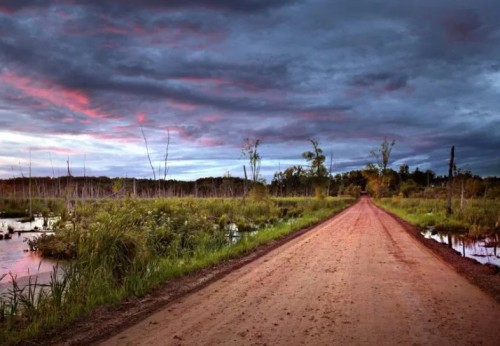 Blood Road in Metamora, Michigan:
#BloodRoad in Metamora, #Michigan is a 2-mile-long dirt roadway surrounded by swampy bogs and woodlands. It is rumored to be #haunted by the #spirits of a group of satanists who allegedly fled to Metamora during the late 1600's and early 1700's to escape the #witchcraft trials occurring in #NewEngland at the time. It's said that the group used the wooded area surrounding Blood Road to perform dark #occult rituals, including human sacrifices, and the alleged summoning of #demonic entities. Although no #historical evidence is available to verify these claims, many motorists traveling along Blood Road have reported encountering shadowy figures and #apparitions lurking in the marshes. In recent years locals have claimed to encounter men dressed in cloaks gathered around bonfires meeting secretly in the woods, however most believe these claims to be nothing more than #UrbanLegends. Many also note that when wet, Blood Road turns a dark red color similar to that of #blood, however this is likely due to deposits of clay and other minerals found in the road.
Click here to read more: www.ghostquest.net/haunted-places-michigan-usa.html
#ghosts #ghosthunting #ghosthunters #ghostadventures #ghoststories #haunted #paranormal #paranormalactivity #hauntedplaces #hauntedhouse #paranormalinvestigator #psychic #trueghoststories #halloween #horror #folklore #occult #supernatural #creepy #spooky #scarystories #weird #writer
Source: Ghost Quest USA
13 Apr, 2020
Blood Road in Metamora, Michigan:#BloodRoad in Metamora,…

Posted in Ghost Quest USA and tagged Real Poltergeist Facts 'Real Ghost Pictures' Supernatural Noices 'Real Ghost Stories' Paranormal encounter by cnkguy with no comments yet.